Are You Ready for the Next Adventure?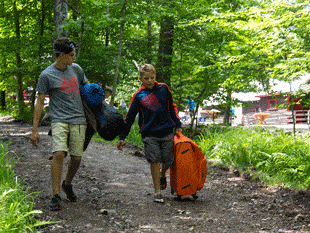 Get Ready For Adventure!
– by Kara "Quotes" Martin
Adventure camp is a great place to begin your camp experience. With amazing staff who care for, play with and teach young children ages 5-10.
At 11 years old (grade 5) campers move into either Boys Camp or Girls Camp. While for some, this can push them out of their comfort zone, it's also full of exciting opportunities and new experiences.
Here are a few thing campers can look forward to as they move to Boys Camp or Girls Camp.
Independence – Campers have new freedoms and responsibilities. Caring staff mentor and coach campers through their time at camp. Studies show how camp helps kids grow in confidence and independence.
Activity variety and levels – Campers can learn new activities and achieve levels of skill as they progress through an activity. Activities such as: canoeing, kayaking, sailing, mountain biking and more, all have achievements that campers can work towards. This also allows for more challenging classes as campers return each year.
Adventures and new exciting programming – Boys and Girls can be seen sneaking along outside as leaders take them on a great adventure. Amazing group games, themes and challenges engage kids in a variety of ways. A 3-day canoe trip is also an option, allowing opportunity to enjoy the outdoors in new ways beyond the 1,200 acres of camp.
Amazing new friends – Campers at Boys and Girls camp interact with a variety of kids all day, not just staying with their chalet or cabin group so they have many opportunities to make friends who have similar interests.
Bible study, worship and small groups – Discussion topics, worship and time in small groups are all geared to get campers talking and interacting about their faith, helping them to grow strong and full of courage as they follow Jesus.
If your child has enjoyed Adventure Camp for years, consider registering them for Boys Camp or Girls Camp, this could be the next step in learning independence, meeting new friends and growing in their faith.
Camp is a great place to help your child grow in confidence!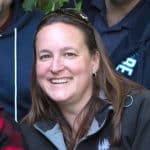 Kara "Quotes" Martin has been working in summer camp for over 20 years and has served in various roles and at several camps across Canada. Her husband Dan, and children (three boys and one girl) have been active in camp and her kids have enjoyed almost every camp program and activity offered. Camp has always been an important place to her where strong friendships get formed and where she can discover God and his love for her. Now serving at Pioneer Camp Ontario in Muskoka, She loves sharing what God has taught her through her camp experience.