Camp @ Home is an initiative for our camp community by our camp community. We want to champion families with endless, kid-friendly activities and resources, so you can bring the camp experience right into your home.
Last modified: July 2, 2020
ESCAPE ROOM
Get ready to put your skills to the test in this virtual escape room! Take on the challenge by yourself or with your friends and see if you can make it out! Let us know how you do on Facebook and Instagram.
Enter the Escape Room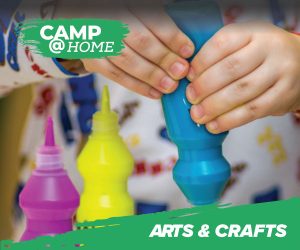 DAY & NIGHT PAPER PLATE CAMPING CRAFT
The best part about camp is going to bed, looking up at the bright stars, and waking up to a clear, blue sky. Keep your kids busy and reminiscent of those long days and short nights at camp with this adorable paper plate craft. Show us your day and night camp scenes on Facebook and Instagram.
Create Your Own Camping Paper Plate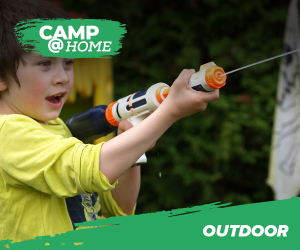 SQUIRT GUN AND CUP WATER RACE
Nothing beats the summer heat more than water activities! See who can race their cup to the finish line by squirting a water gun at a plastic cup. Make it a relay race, or get your thinking cap on to make each race increasingly more challenging. Share your own versions with us our Facebook and Instagram.
Get Some Relay Race Inspiration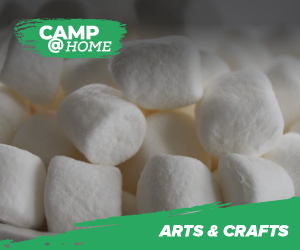 MARSHMALLOWS AND TOOTHPICKS BUILDING CHALLENGE
Bring out the inner future architect or engineer in your child with this hands-on, STEM activity. Using just marshmallows and toothpicks, challenge your kids to build a famous landmark or a familiar camp building. Share your marshmallowy structures with us on Facebook and Instagram.
Start Building Your Structure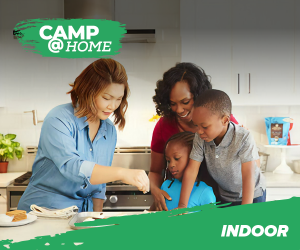 MYSTERY INGREDIENT S'MORES SNACK MIX RECIPE
While we may not be able to sit around the campfire and roast marshmallows together this summer, the s'more lives on! Try this delicious and easy-to-make s'mores snack. Add an extra ingredient (or two) to make it a special family recipe, and tell us your mystery ingredient on Facebook and Instagram.
Try This S'mores Mix Recipe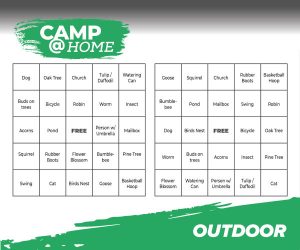 NEIGHBOURHOOD BINGO
Turn your next walk into a camp-wide game! There is nothing like a bit of light-hearted family competition to spice up a walk through the neighbourhood! Just remember to maintain physical distancing restrictions.
Download Bingo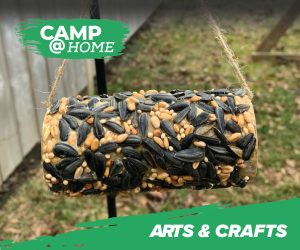 TOILET PAPER ROLL BIRD FEEDER
Stretch your creative muscles and put those empty toilet paper rolls to good use with this DIY bird feeder. Have fun putting this together and watching the birds swoop by to use it! Make sure to share your creations with us on Facebook & Instagram!
Download Instructions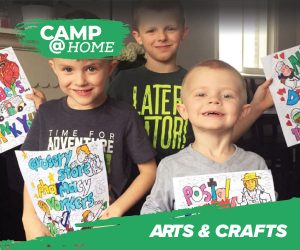 PRINTABLE COLOURING PAGES
A great way to frame meaningful conversations with your kids is by using these colouring pages from our friends at Compassion Series. The downloadable pages celebrate and express gratitude to the front-line workers battling against COVID-19. Share your finished pages with us on Facebook and Instagram.
Download Colouring Pages