WE LOVE OUT TRIPPING!
Canoe tripping has been an important part of Pioneer Ontario's program since the camp began in 1929. Trips, outside of camp into the wilderness, provide unique opportunities for skill development, community building and personal challenge. Canoe trips are a great opportunity for campers to safely step outside their comfort zones while also experiencing the beauty of creation.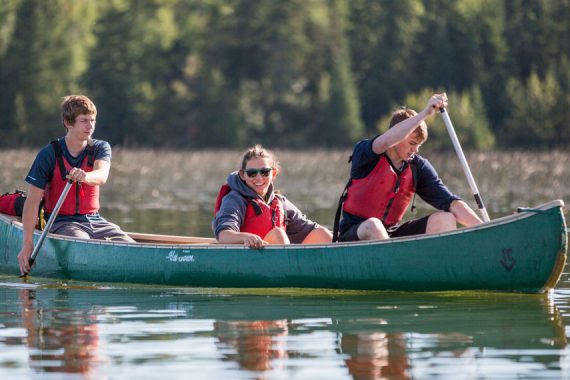 Our well-trained Out Tripping Staff lead campers on a variety of trips that vary in terms of length and degree of difficulty. Each trip is made up of 4-7 campers and at least 2 leaders. Our Lead Trippers are highly qualified and responsible for the planning, navigating, safety and cooking.
We send trips to many regions, including Algonquin Park and the French River. Routes depend on several factors, including water levels and campsite availability. All specialized equipment is provided including: canoes, tents, rescue equipment, satellite phones and wilderness first aid kits.
Please note that campers must reach a certain level on their swim test at the beginning of the session in order to go on a trip.
Adventure Day-Trips
Kayaking & Mountain Biking
In addition to our overnight trips, Boys and Girls Camps also offer several day trips for campers who have reached advanced levels in kayaking and mountain biking.

On opening day parents/guardians will have an opportunity at the activities desk to give permission for the trip. Interested campers will be assessed for appropriate skill level by the staff leading the trip. Those who choose not to participate or who do not have the necessary skill level will remain at camp and participate in a regular day of activities. These trips are subject to availability based on enrolment. Additional costs apply.
Campers who enrol in Kayaking Level 3 or Kayaking Level 4 will have the option to go on a white-water kayaking day-trip to The Gull or Palmer Rapids (depending on water levels). (only in 2 week sessions)
Campers who enrol in Mountain Biking Level 3 will have the option to go on a biking day-trip. (only in 2 week sessions)
After-Session Canoe Trips
This summer you can enjoy a session of camp and then add on a Canoe trip! Following your session of camp Pioneer is offering a 3-night canoe trip. Canoe trips are offered almost all summer – see
Dates and Rates
Ages: 12-16
Cost: $185.00 +tax
Saturday – Camp session ends and trip prep and packing begins!
Sunday-Wednedsay – Leave on Sunday to paddle the beautiful waters and wilderness of Ontario!
Wednedsay Afternoon – Arrive back at camp, unpack and shower!
Wednedsay Night – Parents/Guardians arrive to pick up campers (Check-out times: 4:00-5:00pm)
Sign up for the canoe trip when you
register online
Questions?
Call our office at 1-800-361-CAMP (2267)
If you REALLY love canoe trips and outdoor adventures check out
Woodland Challenge
. If you are in high school and are ready for extreme outdoor adventures, this program is for you!